The purpose of the project was to understand how rural communities respond to the use of pesticides and suicides caused by pesticides, with the end goal of empowering rural communities to take action to protect their own health and safety. The project was exceptional because it was approached from the bottom up. It was created after extensive consultation with communities, and its implementation trusted community engagement and action at the grassroots level. Because of this, it was significantly different from other interventions that were already being done, such as training on "responsible" pesticide management, which takes a more top-down approach.
The two-year project started in October 2020, and it ends in 2022. It was established and implemented by the Emmanuel Hospital Association (EHA), which is a network of 20 hospitals and 53 community development programs spanning seven (7) states and 25 districts in India. The initiative was supported by the Centre for Pesticide Suicide Prevention (CPSP).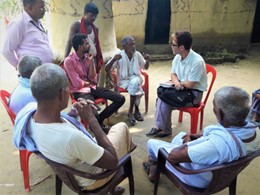 Engagement of community
The project was based in the Indian state of Chhattisgarh's Janjgir Champa district covering two blocks with 117 villages out of a total of 169 villages with a population of 2,79,895, or around 0.2 million people.
EHA initiated a range of activities to engage a diverse audience, including pesticide self-poisoning survivors, community leaders, government officials, and pesticide dealers.
Main activities:
Awareness and education programs on pesticide hazards and health.
Formation of survivor support groups (male and female).
Formation of a local, voluntary task force group consisting of media personnel, lawyers, social activists, farmers, and survivors.
Engagement with pesticide dealers.
Capacity building and training programs for village leaders, farmers, and women's groups.
Education activities for those who have attempted suicide survivors.
Reaching out to over 40 thousand individuals through the project.  
Inspiring action
Some of the achievements resulting from these initiatives include:
Action by Pesticide vendors – Vendors have started to keep a record of pesticide sales, including the product's name, expiry date, and to whom it has sold to easily find out when an incidence of self-poisoning occurs. Vendors have also stopped selling pesticides over the festival period, where suicide incidents rates are particularly high.
Action by agriculture officers – Following an advocacy initiative among the agriculture officials, officers carried out inspections at all pesticide shops. Those found to be selling illegal pesticides were issued warnings. These practices have never been observed in the past.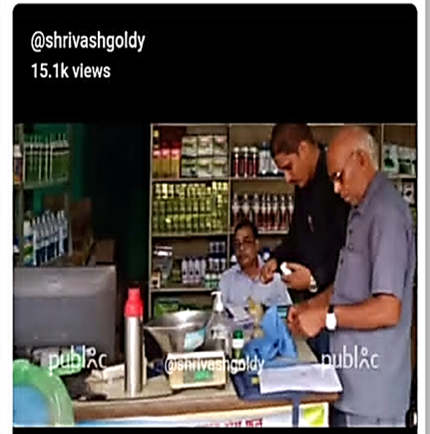 Action by village leaders – Villages have adopted measures to 'minimise harms', through storing pesticides safely, adopting precautionary measures while using them in the field, and also proper storage at home.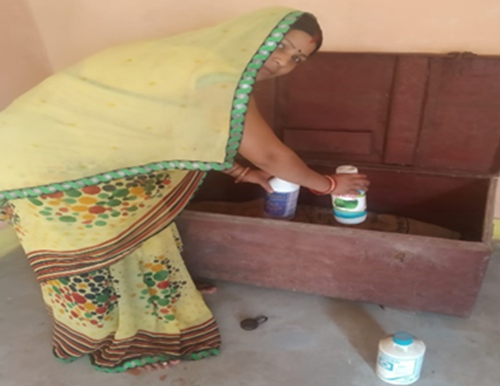 Support Group (SG) –36 members for two suicide survivor groups (18 male and 17 female). Conduct regular monthly meetings to self-support one another (psychologically), and the group invites other families who have experienced suicide attempts or survivors to join the group. And if someone requires further psychiatric help, they will be referred to the project or the hospital. Their participation in different project activities has enhanced the programs, and they also serve as role models in the community.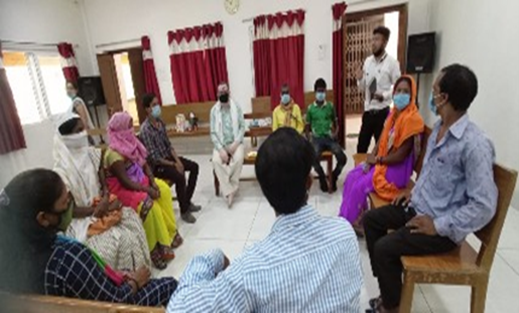 Task force Group (TFG) – is a group of diverse communities, lawyers, media people, suicide survivors, NGOs, representatives, and framer leaders. They served as a "WATCHDOG" to raise awareness of pesticide-related suicides and high-hazard pesticide impacts on human health and the environment. Dialogue with govt. officials about the increase in rates of suicides are an ongoing process.
The project has also stimulated further action across the Emmanuel Hospital Association network. Activities marking World Suicide Prevention Day, which was not previously observed, are now initiated by all 20 EHA hospitals and 53 projects and this is a regular yearly event now.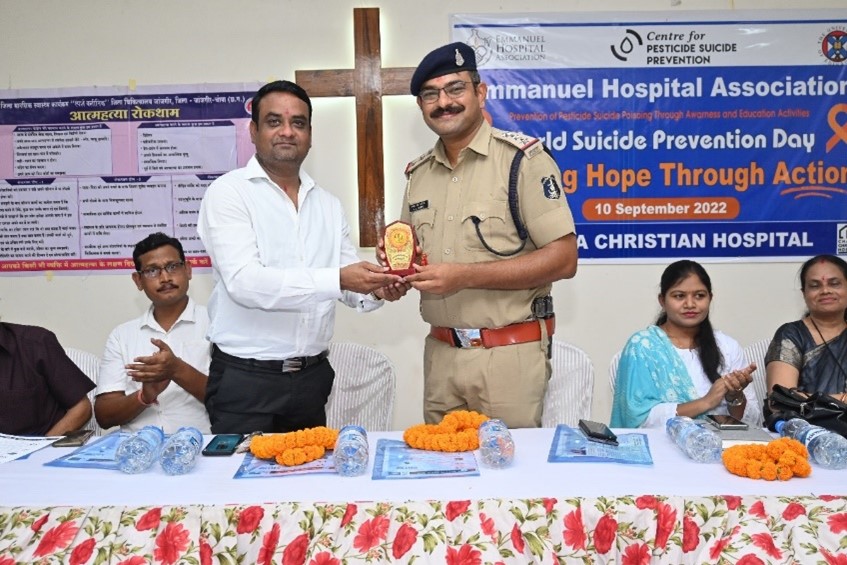 Initial challenges
The project began in October 2020, during the COVID-19 lockdown. This presented a challenge for EHA, who were unable to initiate in-person and mass gathering activities due to the restriction.
The team responded by developing a 'helpline' and sharing information through mobile and WhatsApp messaging services.
The semi-urban settings of some communities posed another challenge. While it was relatively easy to make connections and arrange activities in rural areas, it was not as straightforward in more urban areas. This required patience and consistency to build trust and gain insights.
Recommendation
The existing Health Management Information System (HMIS) does not define or record pesticide poisoning or suicide death. There is a need to include a defined [line item] to record instances of pesticide self-poisoning/death or cause of death/poison name. This will help improve death reporting.
Scale-up education and awareness-raising initiatives using local-specific approaches involving and participation of Key populations (suicide Survivors) with wider coverage. Special focus on IPC. Section 309: a larger population still considers suicide a criminal, delaying emergency health treatment.
Continue advocacy efforts with key agencies for regular monitoring, dialogue on highly hazardous HHP substances eradication from the market, and access to proper suicide emergency services and aftercare, especially in remote locations.
Improve existing medical care, including defined pathways for patient transfer to more advanced care in addressing emergency health care services related to suicide.
Way forward
The task force members and EHA Community Health Department staff will visit Raipur, Chhattisgarh's capital, to meet with the concerned ministers of Agriculture and Health and Family Welfare to submit a petition to stop selling prohibited pesticides and boost the state's HHP chemical monitoring system. TASK FORCE Group will continue collaboration with government and civil society organisations, to promote awareness and sensitisations on pesticide-related suicides.
Regular meetings and sessions will continue for the suicide survivor support group members to self-support psychologically and externally. They will also invite other families of attempted survivors to join the group. They will explore for government facilities to initiate IGP activities so they may self-sustain and also contribute to society.
Our learnings found that such efforts urgently need scale-up with greater coverage targeting new regions to raise local community awareness and abilities. EHA is exploring with national and international agencies to find solutions for these long-neglected situations. Our community health development programs will continue suicide prevention activities in collaboration with the existing projects to reduce harm from deliberate and occupational pesticide poisoning, ensuring the community continues to use safer storage methods at home and in the community.
QUOTES
Bangkim Chingsubam, project coordinator at the Emmanuel Hospital Association, said:
We've done admirable, unique work through this small, simple initiative, and we're doing everything we can to link and join together with other district-level organisations to address the growing number of pesticide-related suicide. The project has also noticed a reduction in suicide attempts in areas where the project has been implemented, compared to our most recent EHA study and our Champa hospital's suicide records over the past six months.
If not policy change, the effort has changed public perception and raised awareness among farmers, pesticide retailers, police, and the government's Agricultural department. The initiative's effectiveness is the concerned department and farmers' community's acknowledgment of the challenges and ownership of them. By recognizing pesticide effects on human health and the community, the project's success will be significantly improved. However, the team regarded and desired that similar operations be maintained by expanding the unreachable region, as such an approach is indeed very new in the country with this long ignoring burning issues, with just a few NGOs working on it.
Dr Leah Utyasheva, Policy Director for the Centre for Pesticide Suicide Prevention, said:
"We were privileged to work with the Emmanuel Hospital Association on this project. This project is unique in a way that it utilizes the power of the community to make change and address pesticide suicides.  We are very encouraged that community leaders were interested and receptive of the project activities."
"The actions taken by community groups, pesticide vendors and agricultural officers is extremely encouraging. As many highly hazardous pesticides are yet to be banned, it is important that people understand the dangers of pesticide use. We are hopeful that even after the project's end, the community will continue to benefit from the knowledge on pesticide management, stronger community support to vulnerable individuals, and community leadership to address negative impact of pesticides."