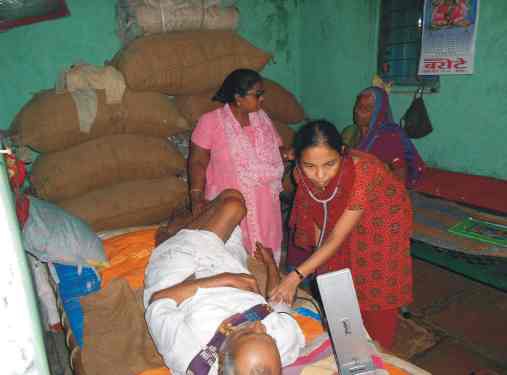 G.M. Priya Hospital is situated in Dapegaon one of the earthquake affected village of Latur District in Maharashtra. This hospital was constructed in 1996 after the earthquake in September 1993 that devastated Latur. The original setup included a 20-bed hospital with facilities for surgery, deliveries, and eye work, as well as an out-patient department and an in-patient department. In 2006, the twenty beds were allotted to the Community Care Center (CCC) for People living with HIV/AIDS (PLHAs). This was funded by the government, and provided much-needed care for the many PLHAs in the area. In 2008 it was taken over by Karnataka Health Promotion Trust (KHPT) with funding from NACO. Since March 2013 NACO stopped funding the CCC.
- The hospital currently serves marginalised groups of people - people living with HIV AIDS, terminal ill Cancer patients, patients with Neurological diseases & chronic illnesses.

- Palliative Care Service was initiated in 2012 in response to the needs of terminally ill patients in the communities around. The PC service provides home based care to patients living within 50 kms of the hospital, along with outpatient care and a 2-bed ward for in patient care. Other components include creating cancer and palliative care awareness among families and communities, family trainings, networking and ongoing staff training.

- The Community Care Centre for people living with HIV/AIDS was re-opened in 2013 with support from EMMS. It was given a new name -'Kanti Care Centre' in memory of Ms. Kanti Carunia the Administrator of GM Priya Hospital who died in 2010.
REPORT 2015 - 16

GMP Priya Hospital Dapegaon has provided yeoman service through Dr Jaishri Chougley and the team. With the Clinical Establishment Act coming in and rules being tightened, it has shifted focus from general care to HIV care and now Palliative care. With funding for the project coming to a halt we need to ask the Lord for future direction. We praise God for all that has been achieved and accomplished during the past 2 decades of the hospital existence. Palliative Care services provided Holistic home based care to 249 patients in 42 villages, with 57 patients being on the current patient list. In the last year, 197 awareness programs were carried out impacting a total of 4,061 people in the community. The lives of 66 People Living with HIV/AIDS were touched by the home-based care services of the KCC centre. 28 new patients were added to the current list, and 606 patients were seen in the outpatient department, of which 200 were new registrations. 60 awareness programs were carried out in the general population, school children and to families.
Hospital Contact Details
Dr. Jayshree Chouguley, SAO/MS
Dapegaon, TQ. Ausa, Latur District,
Maharashtra - 413 572
Phone: 02383-226069 / 226070
Mobile: +91-8888741665
EMAIL: gmpdapegaon@yahoo.com
Visitor Information