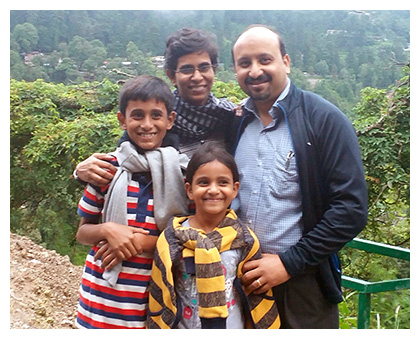 Dr. Deepak S. Singh
MBBS, MS - General Surgery CMC Ludhiana, MCh - Paediatrics Surgery CMC Vellore

Dr. Ashita Singh
MBBS - CMC Vellore, MD in Medicine - CMC Ludhiana, MA in Bioethics from Trinity International University, Chicago, USA.
I grew up in a Christian home in Uttarakhand. I had a school education in Mussoorie, Studied Medicine and post graduate in General Surgery in CMC Ludhiana, and MCh in Pediatric Surgery from CMC Vellore. Ashita grew up in Nagpur, did her MBBS from CMC Vellore and her MD in Medicine from CMC Ludhiana and an MA in Bioethics from Trinity International University Chicago.

I was sponsored by EHA for medical studies so have been part of this family ever since. Married Ashita, in 2000 and we have worked in various hospitals together since 2004, including Tezpur and Chinchpada with a brief stint in CMC Vellore.
Motivating factor - Parents who have worked long and tirelessly for the upliftment of the poor and destitute. They gave us a purpose to follow Christ and His example. They were our best example and motivating factor. The factor to continue is seeing the smile on the faces of the lovely people whom we serve. We are also motivated by our seniors and colleagues in EHA who have shown us by example

Team members-deep commitment to Christ and the work of redemption He did.
Learnings - We live among a farming community which is dependent on rains for their crops. They are generally very poor and cannot afford the private sector.  There is a great need in India to reach the poor and marginalized. There are marginalized sections within the marginalized, like people who are old, people with disability and people with terminal illness. These need to be actively sought out and reached with not only care and comfort but with the love of Jesus Christ.

We have learned that prayer is a powerful tool to see miracles happen. We have learned that God's work done in God's way never lacks God's supply.

Chinchpada Christian Hospital stands between the Govt system which is overwhelmed and the private sector which is based on people being able to afford such services. We keep our services at low cost so that the poorest person can consult a super specialist for just Rs 20/- ($0.30). The medication, diagnostics, and other services are kept at very nominal rates so that the poor are not access due to prohibitive costs.