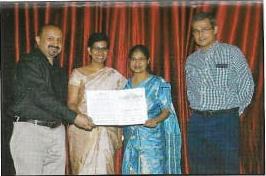 Dr Ashita Waghmare PG Alumnus received the CMC Vellore College Motto Award during the Alumni weekend in August 2018.
The College Motto Award, originally instituted by the batch of 1949, aims to recognize and honor the practice of the Colleges' motto in the lives of its relatively younger alumni. While this may often be in rural, remote or impoverished communities or in the field of public health, any unpopular and under-served area of human need may be considered. The choice should be based on the closest available approximation to being "steadfast, selfless and significant". It is presented annually at the Alumni Reunion and includes a citation, a cash award and travel expenses for the person or couple (within India). Only one candidate can be selected, except that if the spouse of the winner is also a CMC graduate (from any batch), the award should be given jointly to them.
Citation
Ashita Waghmare joined the Christian Medical College Vellore in the year 1993. Her motivation to do medicine and commitment to Christ was evident through her life and example. Blessed with a wonderful voice, she was a regular member of the college choir. She married Dr Deepak Singh, who like her, had a heart to serve in needy areas of India. Pursuing their higher studies, Ashita did her MD in General Medicine While Deepak completed MS in General Surgery, both from CMC Ludhiana.
After completing their postgraduate studies in the year 2004, they moved to work in Baptist Christian Hospital, Tezpur, Assam. There was a great need for this hospital to be revived. Malnutrition, anemia, infectious diseases like tuberculosis and malaria were rampant in that region.
Challenged and moved by the healthcare situation, they began their work with much prayer. Very soon people from near and far started flocking to the hospital. With excellent surgical skills, Deepak performed both open and laparoscopic surgical procedures. In the year  2006, there was a serve outbreak of cerebral malaria and seeing the enormous need for critical care. Ashita started an Intensive Care Unit.
During their time in Tezpur, the hospital grew leaps and bounds in terms of number of patients, manpower, services, infrastructure, equipment and research. Deepak ably led the hospital as the Medical Superintendent. Many people from surrounding districts and from Arunachal Pradesh came there for treatment. The lad services which were started as a one room facility became a full-fledged three-floor laboratory with services in clinical pathology, biochemistry and microbiology. As many patients presented with acute renal failure, they started peritoneal dialysis services for them. The hospital became well equipped with Ultrasound and CT scan machines.
Ashita was part of them that was instrumental in alerting the government of an outbreak of Japanese Encephalitis. She has published research papers on Acute Undifferentiated Fever and Japanese encephalitis. She was instrumental in starting the DNB training program in Family Medicine in the hospital.
Source: Alumni Xpress Connect-Oct 2018