EHA's Disaster Management and Mitigation unit (DMMU) celebrates a decade of serving humanity through 50+ small and large scale disasters relief programs. EHA aligned its responses with the national and global level frameworks for Disaster Risk Reduction (DRR), to strengthen its vision toward building disaster resilient community. With the main objectives of Disaster Response, Preparedness & Risk Reductions the following activities were undertaken during the reporting year.
Disaster Emergency Response: EHA responded during the Nepal Earthquake, Manipur Floods, Manipur Earthquake and J&K Emergency Flood through Medical Emergency Response; provision of Dry Food Ration; Hygiene kits; Tarpaulin sheets; and Post Disaster Psychosocial Care with special focus on Children. Major advocacy was done with the Ministry of Social Justice and Welfare in Anantnag District and at State, and National level for promoting disability inclusive approaches to disaster response in India.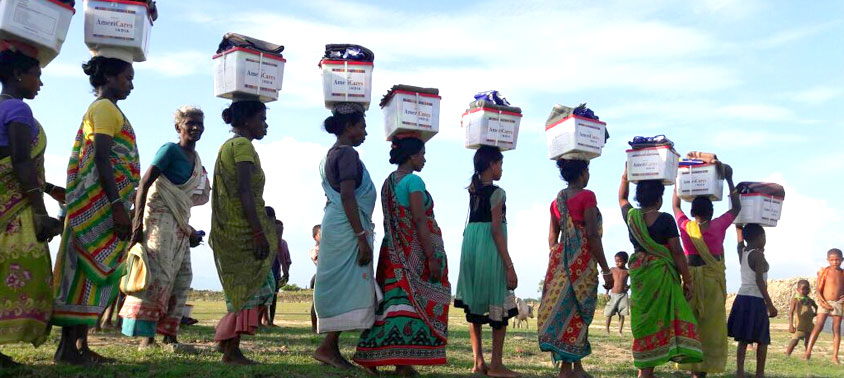 Disaster Preparedness through Trainings: The DMMU team conducted a series of trainings on disaster preparedness for various groups and forums including hospitals. The Hospital Disaster Preparedness concept was presented at Christian Medical Association of India (CMAI) Biennial conference in Jaipur, and to The Leprosy Mission (TLM) leadership team in Pondicherry, which led to a MoU between EHA and TLM India for hospital DRR program. World Humanitarian Day was celebrated at Jamia University Delhi, with children with disability, their parents and staff of Child Guidance Centre (CGC), jointly organized by Sphere India and CGC.
Disaster Risk Reductions: Series of dissemination and training programs on Disability Inclusive approaches to Disaster Response were conducted in 4 States - Lucknow, UP; Kolkata, West Bengal; Bhubaneswar, Orissa & Guwahati , Assam. This was part of the initiative for Disability inclusive approach to disaster emergencies. The HDiDRR project launched in Nepal in partnership with TLM Nepal trained 2115 volunteers till March 2016.
Impact: Since 2007, the unit has progressively built EHA as a national level stakeholder in disaster management training & capacity building area through the Disaster Education & Emergency Medicine (DEEM) training program. Leadership level training program on Hospital Disaster Preparedness & Response as well as on the Disaster Relief Management courses were the major training program developed. Recently a discussion was initiated with a global alliance for developing a South Asian Regional Alliance for Humanitarian Aid.
Long-term Plan: The DMM Unit is currently reviewing its strategic plan to improve overall quality of the disaster management operations ranging from Disaster Response to Implementing DRR programs including the DEEM training initiative. It seeks to enlarge the reach beyond its national borders through cooperation and alliance, with the objective to increase effective and efficient emergency response mechanism in complementing the Sendai Framework. Efforts will be made to Build Back Better with specific focus on EHA hospitals and similar healthcare institutions in India and the region, and to enhance the reach to local community through home grown organizations & institutions through First Responders training and widened DR Network.


~ Peniel Malakar