The 12 EHA hospitals provided year round eye care or intermittent services through invited eye surgeons to conduct outpatients and eye surgeries. A steady team of ophthalmic technicians run the outpatients department and select patients for surgery in the absence of an eye surgeon at their hospital. The eye team is made complete by the nurses who are made available by the hospital for eye operations. This has been an important and integral part of the team and has been helpful specially for visiting eye surgeons who, though they contribute their time, depend on the hospital to provide the operation theatre staff.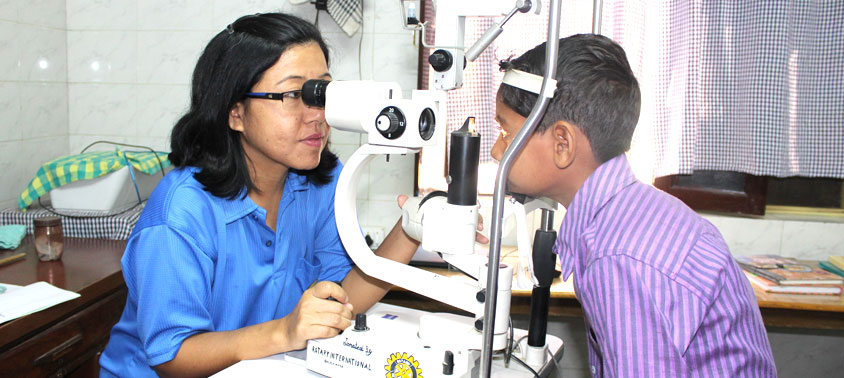 Services and Statistics: A total of 98,819 patients were screened or examined in the outpatient services. Included in this are 10,829 school children who were examined for visual defects and then referred to the eye centre if found to have defective vision. Eye services in EHA include hospital-based care and rural screening programs. The hospital based care includes preventive and curative services through outpatients, medical treatment and eye surgery. The rural program includes screening camps held in areas where the residents find it difficult to visit the hospital for their treatment. Among those who are screened - if they need further treatment are transported to the hospital. In all, 76 screening camps were held in which 9269 persons were screened.
The main operative procedure is cataract surgery, an intervention to prevent blindness. The patients are operated for the cataract and an intraocular lens (IOL) is implanted to enable them to see again. Patients are sent home the next day. Currently the rate of IOL implant is 98.7%.
Two of the hospitals conduct screening services for glaucoma and diabetic retinopathy. Prem Sewa hospital in Utraula, UP continues with the Vitamin A distribution program. The permanent eye services which was started at Sewa Bhawan Hospital Jagdeeshpur, Chhattisgarh a year ago, has been steadily growing in numbers. The expert eye care given at the hospital is greatly appreciated by the community.
In addition to the patient treatment services, 4 hospitals also run optical shops. Through this service, quality eye glasses at reasonable cost is provided to the patients. Thus they do not have to travel far distances to get their prescription glasses.
New Equipment: The major new equipment purchased was a Zeiss operating microscope by Jiwan Jyoti Christian hospital in Robertsganj. To improve the outpatient services, better ways to test the vision in children was introduced at Robertsganj. Several other enhancements were made including Schirmer's test for dry eyes, Contrast sensitivity test, tests for muscle balance and accommodation. In the operation theatre, the use of disposable surgical drapes was introduced.
~Dr. Sydney Thyle