Our Lord has been gracious and merciful in leading us through the past year. In EHA, we focus three nursing disciplines; education, services and upgradation programme to extend nurses role to focus on holistic care.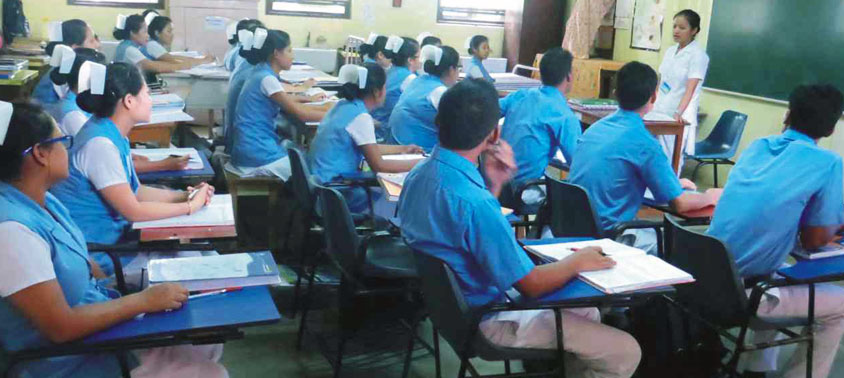 Nursing Education
Nursing students' admission was done with the three steps comprising of entrance examination, medical examination and an interview. Currently, in seven nursing schools a total of 439 students are on roll, with 374 in General Nurse & Midwifery [GNM] and 65 in Auxiliary Nurse Midwifery [ANM] programme. A total of 47 faculty are working in the nursing schools, most of them are Master in Nursing [M.Sc.] and Bachelor in Nursing [Post Basic B.Sc./B.Sc.], helping bring good results and also transforming the lives of students.
Every October we see a bunch of fresh nursing students become a part of the EHA family. Fresher's turned into mature nurses after three years of training programme. This amazing change requires the acknowledgement of God's immense grace, perseverance of the faculty of the school of nursing, the team effort of the EHA hospitals and of course, the students who were willing to be molded into who they are today.
Passion for teaching and a constant drive to improve the quality of education has enabled the faculty to adopt different creative methods of teaching. Objective structured clinical examination [OSCE] was introduced as a clinical evaluation method by the Mid India Board of Education. To strengthen the uniformity in the conduction of OSCE, a workshop was arranged for all faculty on planning and conduction of OSCE. Planning meetings were conducted by the Principal for the students to improve their academic performance. To strengthen the classroom teaching and to bring about sound clinical practice the students were given opportunity to learn through simulation in the skill labs and through hands on practice in the wards and clinical areas of the hospital.
The team effort of the health care team helps make EHA produce down to earth nurses who are also wonderful human.
Nursing Services
The department of nursing services strives to ensure that all patients referred to us receive the highest possible quality of holistic care during their illness and education/support during the period of health by which we take part in fulfilling the vision of being a "Transforming People through Education and Care".
A total of 843 nurses are presently working with EHA units. There are currently 34 M.Sc., 111 PB B.Sc. / B.Sc., 423 GNM and 275 ANM Staff Nurses. EHA nurses believe that, although there is a tremendous amount of science to our practice, it is still necessary to have the art, the communication and compassion to improve the patients' outcomes. Monitoring and maintaining the standards and quality of care in the ward through training, guidance and supervision. The quality indicators are monitored and analyzed by the nursing superintendent and quality managers on a regular monthly basis.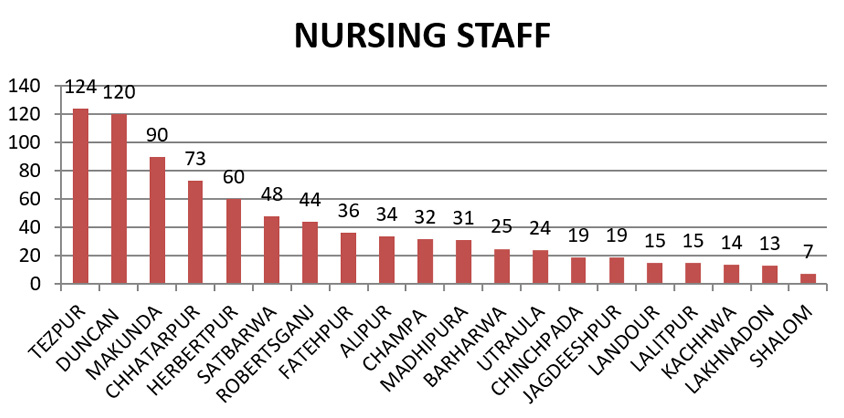 To foster collaboration between nursing services and education, few of the EHA hospitals appoint M.Sc. nurses to coordinate the overall services of the respective clinical areas [Medical-Surgical/Paediatric/Obstetrics/Community] while the ward in-charges organize and take responsibility for the day to day functioning of the clinical areas. Each new staff undergoes an orientation to their clinical areas after which they are given responsibilities to manage the ward independently.
Continuing in-service education takes place on a regular basis and efforts were taken by the nursing personnel to conduct various workshops, retreat and conferences to enable nurses to gain knowledge and obtain their credit points.
The Nursing services observed and celebrated various national and international days. Health camps, school health programme, competitions were conducted to create health awareness among community. 
Nursing Service provided professional support for nurses from other institutions/organizations by permitting them as visitors/observers to update them in the areas; Neonatal, Obstetrics, Medical and Operating Room to benefit their institutions/organizations.
Nurses enthusiastically participated in the spiritual activities like Bible quiz, Saline solution meetings and other retreats.


Nurse Up-Gradation Programme
A.  Neonatal Survival Training Programme [NeST]
This year a study was conducted to see if there is any improvement following the implementation of the NeST programme.
Knowledge of the staff nurses has improved ≥32% from the last assessment scores- an indicative that frequent and intensive courses on neonatal care are highly desired. The difference in the knowledge score between doctors and nurses were significant. The number of MBBS doctors participated in the assessment were 20 and their average knowledge scores were 87% compared with the nurses 363 and their knowledge scores were 42%.  There was also a significant difference between the skills score by the doctors 76% and nurses 51%.
Frequent NeST training needs to be organised for better retention of the skills acquired and better performances during neonatal resuscitation, since attendance at these courses has been shown to improve these skills in those trained in them. It also provides an opportunity to  those who have previously worked in the delivery room and the NICU, to apply the acquired knowledge into practice.
Thus continuation of routine and periodic NeST training programme may improve the knowledge and skills about the resuscitation, identification of early warning signs and revive neonatal care. This is essential for improving survival rates of newborn babies.
B. Community College
The motto of community colleges "Including the excluded and giving the best to the least"
Community colleges have been developed as an alternative system of education aimed at empowerment of disadvantaged, marginalized and underprivileged communities through appropriate skill development. It responds to exclusions – low income, lower castes, and educational dropouts and aims at education, empowerment and employment thus making them "fit for life, fit for job".
The Makunda Christian Community College for Diploma in Health Assistants was started in collaboration with Indian Centre for Research and Community Education [ICRDCE], Chennai, a Non-Governmental Organization.
Health Assistants are currently employed as staff in the hospital to strengthen the nursing services. Few of them had expressed their desire to continue their education and have now in the ANM/GNM courses.
Future Plan
There is a great need of Nurse Practitioners in Midwifery/Neonatal to provide quality maternity and neonatal care within and outside EHA hospitals. As is all too common in the healthcare field today, there is a shortage of qualified personnel, especially doctors and nurses, in EHA hospitals.  Because they are located in rural areas, and because they are non-profit organizations with limited resources, attracting well-trained personnel is a continuing problem. Training Nurse Practitioners in Midwifery/Neonatal could help to alleviate this.  Nurse Practitioners would be more highly skilled and more knowledgeable than B.Sc. nurses, and so would be able to take on some of the functions currently performed by doctors.  This would relieve doctors to concentrate on those more complicated cases where their knowledge and skills were essential, with Nurse Practitioners taking responsibility for other cases. 
The need to upgrade the ANM and GNM Schools to B.Sc. College of Nursing. The Government has plans to phase-out both ANM and GNM schools and use B.Sc. graduate nurses as the primary nursing personnel in secondary and tertiary levels hospitals. The bottleneck in upgrading had been the requirement of major investments for infrastructure and facilities for all four batches of B.Sc. students. We would then have a higher standard of applicants and overall the standard of care would improve.
We have plans to re-start RCH [reproductive and child health care] and EmOC [emergency obstetric care] training for staff of EHA units and in future local government and private hospitals.
Forming an Alumni association for all students who pass out from EHA nursing schools.
Well established skills laboratories in all the nursing schools
Empower nurses professionally and spiritually
Conclusion
In EHA by the study of God's Word, a strong prayer life, and an abiding trust in God, students and staff are learning to recognize, trust, and enjoy the presence of God moving in their lives.
We would like to express our gratitude to all the donors/sponsors from India and abroad who so faithfully provided support. We thank God for His provision and all EHA/units/CHDP/nurses/visiting lecturers/guests who have helped us.
So then, as we have opportunity, let us "Do not neglect to do good and to share what you have, for such sacrifices are pleasing to God" Hebrews 13:16
~ Mr. Vinay John and Miss. Jasper Damaris
Nursing Facilitator