NURSING EDUCATION in EHA focuses on character and career development of the student nurses studying in 7 nursing schools. Every year, 140 students become a part of EHA's nursing schools. Most of these students are unsure of their future, and counseling in groups and individually helps them find direction. Corrections, encouragements, spiritual nourishment and appreciations for their hard work help them to pull on. Along with fulfilling their course requirements, the students also learn adjustment methods, communication tools, good nursing practices, and being compassionate in delivery of care to patients. By the time they graduate, they become professional nurses.
EHA Nursing Services strives to make a difference in the patients they serve, through excellence in care, servant hood and teamwork. EHA nurses follow the professional model that includes Patient-centered care, practicing servant-hood - demonstrating unconditional care; Patient advocacy, good Communication with patients, and teamwork. EHA Currently has-nurses across its hospitals and projects.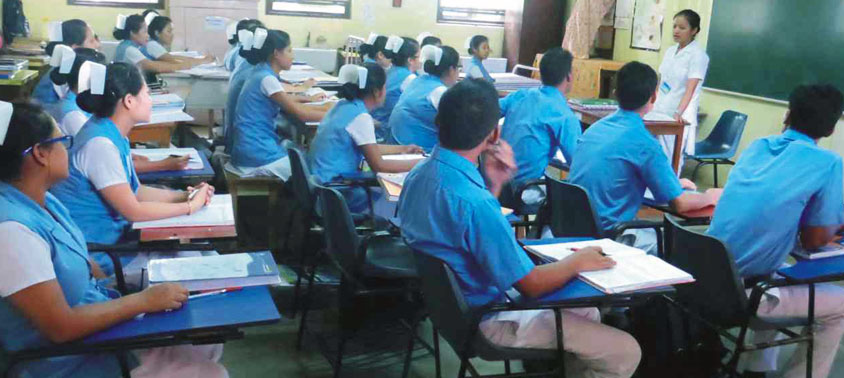 Reproductive and Child Health Care (RCH) Course started in 1998 and ran successfully until 2013. Approximately 114 nurses have completed the course in that time and are applying their knowledge to their work within and outside EHA. The objective of RCH training is to strengthen the concept of 'task shifting' - nurses working as middle level healthcare givers providing safe and up to date midwifery care in the absence of an obstetrician or 'task sharing' - where staff work alongside obstetricians. This year two refresher courses were held at Landour Community Hospital, Mussoorie in December 2015 and March 2016.
Neonatal Survival Training Program (NeST): In April 2013, EHA-Canada provided a grant for NeST to reduce neonatal morbidity and mortality in the areas where we work. In the third year of NeST, three hospitals (Raxaul, Chhatarpur and Makunda) worked towards appointment of a pediatrician, recruitment of nurses at 1:4 for a special care unit, and 1:2 for ventilation and Continuous positive airway pressure therapy (CPAP) on babies, implementing SOP's for nursing procedures, admissions, discharge and follow-up. Jaundice rounds for rooming-in babies, protocols for care of babies in rooming-in, orientation package for Neo-natal Intensive Care Unit (NICU) nurses, neonatal chart-risk assessment and maternal examination record have been developed and implemented. This year two NeST workshops were held at Landour Community Hospital, Mussoorie. In the 4th year, the Master trainers in each hospital will train other nurses and doctors and will be evaluated by the NeST faculty. NeST will train nurses to handle complicated neonatal care by providing the required equipment, and will teach other private and government hospital doctors and nurses. The program will also train Skilled Birth Attendants/Community Health Workers outside EHA hospitals.
A Nursing Exchange Program will start in October 2016 between Saskatchewan Institute of Applied Science and Technology, the University of Regina Canada and EHA. Two Canadian nursing faculty and eight students will visit Herbertpur Christian Hospital for a nursing and community health and development course.
~  Mr. Vinay John